Making a Delicious Mercedes-Benz Thanksgiving Feast
November's almost here, and that means one thing: Thanksgiving! At Mercedes-Benz of Roanoke, we're thankful for our customers' continued support and the amazing new Mercedes-Benz models who call our Roanoke luxury car dealership "home." To help us all get into that festive holiday spirit, here are a few of our favorite Mercedes-Benz vehicles set to the tune of your typical Thanksgiving menu. Bon appétit!

Mercedes-AMG® S-Class – Photo: mbusa.com
Turkey: Mercedes-Benz S-Class
Just about everybody considers the 2017 S-Class to be one of the best luxury cars on the market. Edmunds gave this Mercedes-Benz sedan a perfect 5-star review. U.S. News ranks the S-Class as the top Super Luxury Car. The NY Daily News shares the same opinion—and so do the salespeople at our Roanoke Mercedes-Benz dealership.
No matter how it's prepared – it's available in a variety of sedan and coupe models, including a humble S 450, S 450 4MATIC®, S 560 4MATIC®, AMG® S 63, and range-topping AMG® S 65 – the S-Class is to the Mercedes-Benz lineup as turkey is to a traditional Thanksgiving meal. Always has been. Always will be.
On the outside, the S-Class glistens with pride. Adaptive LED headlights bracket the distinctive grille, drawing looks straight toward the iconic three-pointed star emblem. Standard 19-inch wheels evoke a sense of awe even when stationary. Elegant body lines flow from front fender to rear trunk lid, showcasing the car's innate athleticism and poise.
Slice its crisp exterior open, and the S-Class oozes juicy opulence. Standard luxury car fare applies, but with added features like MBTex leather trim, a unique cabin air-fragrance system, two hearty 12.3-inch screens, and an available 24-speaker Burmester audio system, exceeding expectations is what this Mercedes-Benz does best.
Shop our current inventory of new S-Class models to find your perfect bird. And if you are a fan of leftover turkey, be sure to look through our selection of certified pre-owned Mercedes-Benz sedans.


2018 Mercedes-Benz C-Class Sedan – Photo: mbusa.com
Mashed Potatoes: Mercedes-Benz C-Class
With or without gravy, mashed potatoes are a staple to any Thanksgiving feast—they also happen to be delicious on the other 364 days of the year. Like mashed potatoes are to foodies, the Mercedes-Benz C-Class sedan is the perfect 24-7 companion of everyday drivers. Over a dozen versions of the 2018 C-Class exist, ranging from the base C 300 to the AMG® C 43, and each one is a spoonful of special.
Smaller than the Mercedes-Benz S sedan yet equally as refined and powerful, the C-Class engages the senses from foot arch to noggin. The base 2.0L inline-four produces a butter-churning 241 horsepower routed through a new and dynamic 9G-TRONIC automatic shifter, which allows you to dial in on the ideal driving mode for each on-the-road scenario.
For those who enjoy their mashed potatoes less au natural—that is, slathered in thick gravy—the AMG® C 43 is your car. It puts a kick in the standard 'tater toppings, offering a bi-turbo V6 that pounds out 362 horsepower to help you hit 60 mph in as little as 4.6 seconds.
If you prefer your thrills to come from the cabin rather than the engine bay, know that the C-Class can be bundled with a variety of highlightable features, such as Keyless-Go, swiveling LED headlamps, voice-controlled navigation, a Wi-Fi hotspot, 13-speaker surround-sound system, and an elegant head-up display, among others. Add what you like and enjoy.
Take a look at our selection of C-Class sedans for sale, and allow us to help you customize your new luxury car.


2018 Mercedes-Benz GLC – Photo: mbusa.com
Stuffing: Mercedes-Benz GLC SUV
A Thanksgiving dinner sans stuffing should be criminalized. The same can be said of a Mercedes-Benz roster without its luxury compact SUV, the GLC. As tasty as it is filling, the 2017 GLC speaks directly to our inner desires, offering ample space for five passengers, a stylish cabin, and a full array of advanced safety tech.
Comfortable 40/20/40 rear seats provide far more support than rival SUVs, and considering the GLC's wide stance, there's certainly enough room in the back for the entire family, pets included. Adequately configured, the GLC also provides 56.5 cubic feet of cargo space—talk about a hassle-free Thanksgiving drive to Grandma's—and a handy under-floor storage area that is perfect for your holiday dishes.
You'll find numerous safety features inside the Mercedes-Benz GLC, which is why the IIHS marked it as a Top Safety Pick+ for 2017. Feeling sleepy? Attention Assist will keep an eye on your eyes for signs of driver drowsiness. Chilly November wind in the air? Crosswind Assist keeps the GLC on course even when those gusts rock the boat. Other standards and available safety features include a rearview camera, Pre-Safe, Collision Prevention Assist Plus, active blind-spot monitors, lane-keep assist, pedestrian detection, and adaptive cruise control.
Reliable, safe, spacious, comfy, chic—the 2017 Mercedes-Benz GLC is all of this, and then some. Browse our inventory of Mercedes-Benz SUVs today.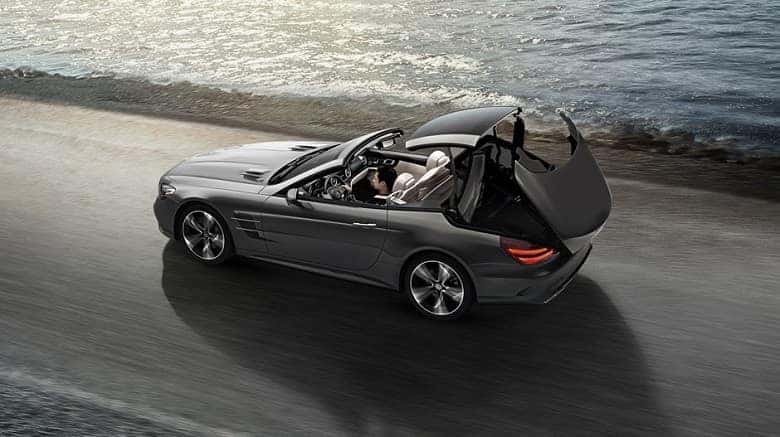 Mercedes-Benz SL Roadster – Photo: mbusa.com
Dessert: Mercedes-Benz SL Roadster
Why is the SL Roadster akin to a Thanksgiving dessert?
Perhaps it's because there's nothing sweeter than the roar of a boisterous 449-hp V8 engine as you effortlessly hit 60 mph in under 4.3 seconds. Twists, turns, and bumpy bends in the road are no match for the decadent Roadster thanks to an Active Body Control system that adjusts to all road conditions, resulting in a flawlessly balanced ride. Pop the coupe into "Curve mode," and you're set up for race track-like exploration.
Or maybe it's the cabin's rich, velvety aesthetic, which is enhanced by premium soft-touch materials, smooth Nappa leather seats, and a luscious 900-watt sound system. With room for two—a driver and passenger, obviously—this Mercedes-Benz SL is not only cozy enough for those countryside tours around Salem, but it's also technologically advanced enough to help you maneuver the busy one-way streets of Downtown Roanoke.
It could also be the exclusive retractable power hardtop (via Magic Sky Control®) that transforms any trip into a belt-loosening vacation. You'll gain your second wind in as little as 20 seconds with the simple press of a button, even while driving up to 25 mph.
Either way, it's clear that the Mercedes-Benz SL is as street-legally delightful as a slice of pumpkin pie. View the current selection of Mercedes-Benz Roadster models for sale and lease at our Berglund Luxury Roanoke dealers, and we'd be happy to set you up with a test drive.
Contact us at (540) 344-6284 or head into our Roanoke Mercedes-Benz dealership at 5000 Franklin Road to celebrate your Thanksgiving with a new car. Don't forget to ask us about our special seasonal car lease deals on 2017 and 2017 Mercedes-Benz models. Happy holidays!
Sources & Photos:
http://www.nydailynews.com/autos/awards/2017-dna-award-winner-mercedes-benz-s-class-luxury-car-article-1.3018741
https://cars.usnews.com/cars-trucks/mercedes-benz/sl-class
https://cars.usnews.com/cars-trucks/rankings/super-luxury-cars
https://www.edmunds.com/mercedes-benz/s-class/2017/review/
http://www.iihs.org/iihs/ratings/vehicle/v/mercedes-benz/glc-4-door-suv/2017
https://www.caranddriver.com/mercedes-benz/c-class
https://www.mbusa.com/mercedes/index