Is the Mercedes-Benz All-Electric Urban eTruck an EV Game Changer?
Earlier this year, Mercedes-Benz revealed details about their 100% electric truck, showing the world that automakers from Stuttgart, Germany, are as forward-thinking as those from Palo Alto, CA. As the world's first heavy truck of its kind, the Urban eTruck isn't slated for distribution until 2020, but if this is the future that Daimler envisions, the wait will be well worth it. Here's what you need to know about the all-electric Mercedes-Benz truck, and what it means for the rest of the Mercedes lineup.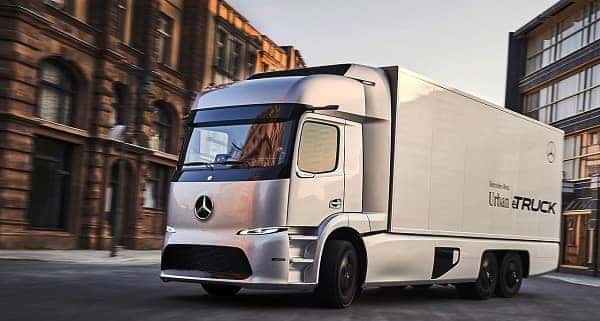 Photo: Mercedes-benz.com
Truck-like Performance, EV Efficiency
If a Mercedes Sprinter or Metris can't handle your Roanoke small business's daily needs—say, you deliver pool equipment to local gyms or UVA—then the Urban eTruck may be your solution. Built on a tri-axle, heavy-duty truck chassis, the Mercedes-Benz electric truck can haul up to 26 tons (or tonnes, for the Euros reading this), making it a perfect little urban transporter tour de force. With the growing population of city dwellers, the logistics of e-mobility are constantly under a magnifying glass. The Urban eTruck aims to solve some of those concerns.
Why are cities the optimal habitat for the eTruck? An innovative 212-kWh lithium-ion battery allows this Mercedes to travel up to 125 miles on a single charge, which is just enough for your daily deliveries to and from Martinsville, VA. Producing zero emissions, the truck also whispers even with the accelerator fully engaged.
A number of other fuel-efficiency additions help erase any qualms you may have about its ability to help you and your employees stay productive. Predictive Charge Management enhances charging capabilities, reducing charge time dramatically, as do the stationary battery storage units.
The Fleetboard for Urban Distribution service connects the eTruck's drive control to its flexible telematics system, ensuring the battery isn't pushed too hard when you're not under delivery time constraints. This further improves the range.
The Future of Mercedes-Benz Electric Vehicles
Fleet and customer trials of the eTruck and its FUSO Canter E-Cell are underway in Germany, but what does it all mean for the Mercedes-Benz cars and SUVs we'll have available here in Roanoke?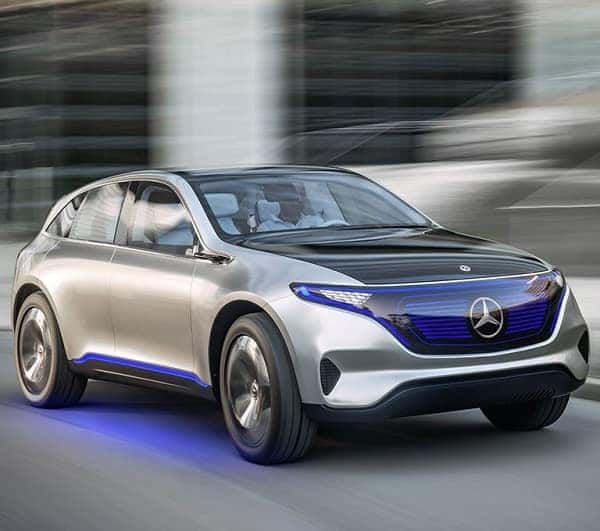 Concept EQ – Photo: mbusa.com
The production of a quality heavy-duty truck and Li-ion battery could have long-lasting implications for EVs and self-driving vehicles. The Mercedes-Benz Concept EQ, for instance, is planned to offer a similar battery pack with a range of over 300 miles per charge. Stationary battery charging pads are convenient alternatives to the soon-to-be-standard EV charging stations. And a seamless interconnected web of tech and GPS, as is offered in the Urban eTruck, will be what makes autonomous cars more accessible to the public.
Find a Fuel-Efficient Mercedes-Benz Today
Don't wait for the "next big thing" to come along when there are amazingly stylish and eco-friendly new Mercedes models available right now. We invite you to take a tour around Salem or Blacksburg in a new Mercedes-Benz C-Class sedan or GLE 4MATIC® SUV. Contact our Roanoke Mercedes-Benz dealer at (540) 344-6284 or head to Berglund Luxury Roanoke at 5000 Franklin Road, and you'll start feeling prepared for the transition to a 100% EV future—all courtesy of those clever engineers in Germany.
Sources & Photos:
https://www.daimler.com/products/trucks/mercedes-benz/world-premiere-mercedes-benz-electric-truck.html
https://electrek.co/2017/02/17/mercedes-benz-etruck-production-all-electric/
http://media.daimler.com/marsMediaSite/en/instance/ko.xhtml?oid=13092256&ls=L2VuL2luc3RhbmNlL2tvLnhodG1sP29pZD0xMzAzMjM2MiZyZWxJZD02MDgyOSZmcm9tT2lkPTEzMDMyMzYyJmJvcmRlcnM9dHJ1ZSZyZXN1bHRJbmZvVHlwZUlkPTQwNjI2JnZpZXdUeXBlPWxpc3Qmc29ydERlZmluaXRpb249UFVCTElTSEVEX0FULTImdGh1bWJTY2FsZUluZGV4PTAmcm93Q291bnRzSW5kZXg9NQ!!&rs=0
https://www.mercedes-benz.com/en/mercedes-benz/design/mercedes-benz-urban-etruck/
https://www.mercedes-benz.com/en/mercedes-benz/next/e-mobility/concept-eq-mobility-revisited/